The Oratory of the Florentines with the Birth of the Baptist by Sebastiano Ricci I Courtesy Banca di Bologna
Bologna
– It doesn't happen that often to be able to admire a work in the environment for which it was created. Especially if the place in question is part of a deconsecrated church for over 200 years, which ended up in private hands and then became the location of a bank. This is the case with the altarpiece of the
Birth of the Baptist
a seventeenth-century masterpiece painted by
Sebastiano Ricci
for the Oratory of San Giovanni Battista dei Fiorentini. Removed from its seat in 1798, when Napoleonic officials closed the church for worship and used it for commercial use, the canvas is now kept in the National Art Gallery of Bologna together with other jewels from the same era.
Restored with respect for history by the Bank of Bologna, the Oratory of San Giovanni is now ready to welcome the altarpiece for eight months: on the occasion of the European Heritage Days, starting from Saturday 24 September and until 29 May 2023, the public you will be able to admire it in its place of origin thanks to a program of free guided tours that can be booked on the bank's website (https://bit.ly/3QipPsr), in collaboration with the National Picture Gallery and the Alma Mater Studiorum University of Bologna.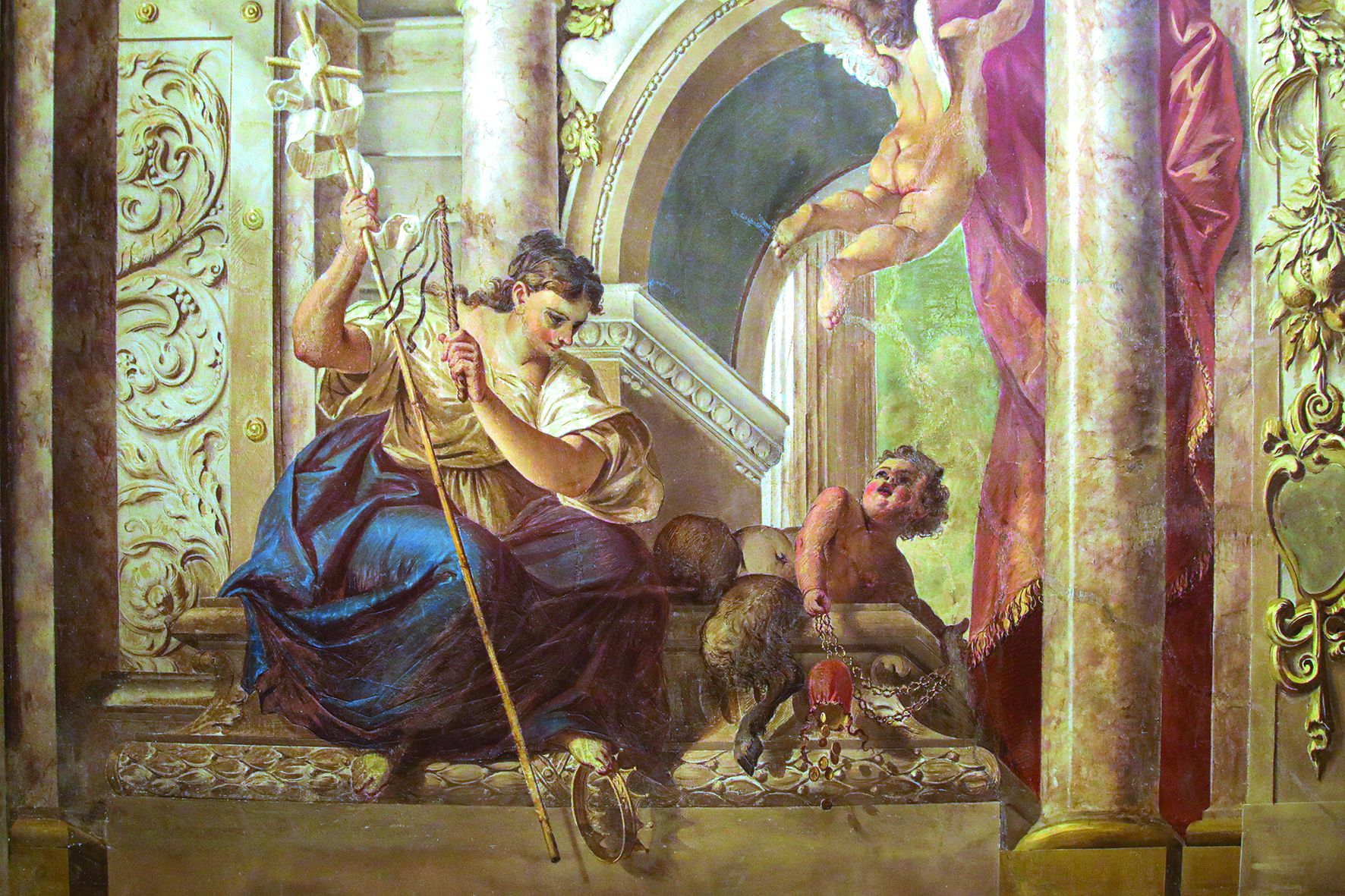 The eventful representation of the Birth of the Baptist orchestrated by Ricci will thus return to dialogue with the magnificent frescoes created by the seventeenth-century masters Domenico Baroni, Mauro Aldrovandini, Giuseppe Rolli and Paolo Guidi for the vault and walls of the Oratory. Baroque jewel unknown to most, the cult building is located in Corte de 'Galluzzi, a historic corner of the center of Bologna, on the upper floor of the ancient Church of Santa Maria also known as "Rotonda dei Galluzzi", which the homonymous family aristocracy made at the foot of the thirteenth-century tower owned. After the family's abandonment, the church was used by the Company of San Giovanni Battista dei Fiorentini, a congregation of velvet weavers devoted to prayer and penance, who restored it and built the Oratory.

Baroque decorations at the Oratorio dei Fiorentini (detail) I Courtesy Banca di Bologna
In short, the place itself will be a discovery for many: "The Oratory is an extraordinary Baroque symphony, refined and brilliant, unique in the Bolognese artistic heritage", explain Dr. Mirella Cavalli of the National Art Gallery and Professor Luca Ciancabilla of the Alma Mater , curators of the initiative: "The aim of the project is the critical reinterpretation of this magnificent corner of the Corte de 'Galluzzi in the light of the temporary relocation of the altarpiece, an event that we think could initiate an experimental approach and give new impulses to studies. The visitor will be accompanied inside the environment by the necessary explanatory apparatuses, useful for understanding the critical and historical reasons pursued by the new layout, as well as for the correct use of the place ".

Frescoes of the Oratory of the Florentines (detail) I Courtesy Banca di Bologna