Maurits Cornelis Escher, Hand with reflective sphere, 1935 Lithograph, 21.3 x 31.1 cm, Maurits Collection, Bolzano All MC Escher works © 2022 The MC Escher Company. All rights reserved
Florence
– Is it a peel or maybe a face? Do the men of the castle go up or down?
Faced with the works of Maurits Cornelis Escher it is difficult to find an answer, but perhaps what matters most is precisely the ambiguous charm of these images that hook the eye of the observer between reflective surfaces and games of perception, making the art of the great Dutch engraver and graphic artist even more intriguing.
Starting from October 20, Florence will host, until March 26, over 200 works by Escher, which will parade in the record-breaking exhibition entitled Escher, ready to illuminate the spaces of the historic Museo degli Innocenti.
The anthology will tell the story of the genius of the Dutch artist who, in 1922, visited Italy for the first time, exploring it from north to south and representing it in many of his works.

Maurits Cornelis Escher Buccia, 1955, Woodcut, 23.5 x 32 cm, Maurits Collection, Bolzano All MC Escher works © 2022 The MC Escher Company. All rights reserved
Visitors will enter face to face with the universe of the restless, reserved, brilliant artist who entrusts to his engravings that have become famous and to lithographs an imaginative, impossible universe, where mathematics, art, physics, science and design converge.
Among the most representative works will be seen in the exhibition Hand with reflective sphere (1935), Bond of union (1956), Metamorphosis II (1939), Day and night (1938) and the series of Emblemated which belong to the common imaginary connected to the great artist.
The path dedicated to Escher will be the first major exhibition event within the monumental complex designed by Filippo Brunelleschi and created to exhibit the works of art of the ancient Spedale delle Leopoldine, a large reception center for children, today a treasure chest of masterpieces of artists such as Domenico Ghirlandaio, Luca and Andrea della Robbia, Sandro Botticelli.
Sponsored by the Municipality of Florence, the Embassy of the Kingdom of the Netherlands, produced and organized by Arthemisia in collaboration with the MC Escher Foundation, Maurits and In Your Event, the exhibition will be curated by Mark Veldhuysen – CEO of the MC Escher Company – and by Federico Giudiceandrea.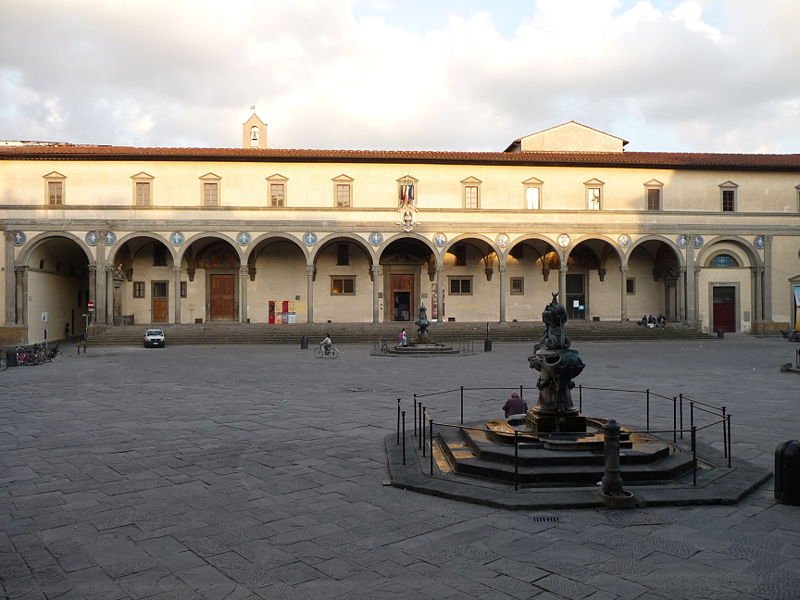 Hospital of the Innocents