Richard Avedon, Dovima with elephants, evening dress by Dior, Cirque d'hiver, Paris, 1955 © The Richard Avedon Foundation
Milan
– At the height of Fashion Week, the Milan of fashion welcomes Richard Avedon: from today, September 22, until January 29, 2023, 100 shots will tell the career of the great photographer at Palazzo Reale in the exhibition
Richard Avedon. Relationships
. Milestones in the history of fashion and portraits with a powerful impact will transport visitors into the glamorous world of the American master, highlighting the choices and innovations that have made him one of the most influential photographers of the 20th century. While Avedon revolutionized fashion photography by transforming models from static subjects into leading actresses, on the other hand his black and white portraits, often in large format, have managed to reveal the intimate and personal dimension of celebrities in another. way unattainable.

Richard Avedon, Truman Capote, writer, New York, October 10, 1955 © The Richard Avedon Foundation
At Palazzo Reale we will discover it along a path born from the collaboration of the Milanese museum with the Richard Avedon Foundation and the Center for Creative Photography in Tucson, USA. On display 60 years of photography, in a spectacular series of images ranging from the Beatles to Marilyn, from Sofia Loren to the Dalai Lama, to an unpublished Andy Warhol who offers Avedon his gunshot scars after surviving to the assassination attempt. To be observed carefully are the images in which the photographer returns to portray the same subject years later: it happens with the painter Jasper Johns and with the beat poet Allen Ginsberg, but above all with his friend Truman Capote, the protagonist of a photographic relationship. prolonged to be discovered.

Richard Avedon, Nastassja Kinski, Los Angeles, California, June 14, 1981 (© The Richard Avedon Foundation)
And speaking of portraits, it is impossible not to mention the iconic shot dedicated to Nastassja Kinski in 1981, chosen as the guiding image of the exhibition: with the actress lying softly on the floor and embraced by a snake, the photo is an eloquent example of how Avedon he approached the subjects to be portrayed. The white background eliminates any possible distraction by highlighting pose, gestures and expression: the interaction between figure and void, between body and space is the key to the power of the image, which is shot at close range, giving the viewer an unexpected intimacy with the model.

Richard Avedon, John Lennon, musician, The Beatles, London, England, August 11, 1967 © The Richard Avedon Foundation
For fans of fashion photography, the Milanese exhibition is a mine of surprises. It offers the Italian public the rare opportunity to follow the complete evolution of Avedon's art in the field of fashion, from the first shots taken for magazines such as Vogue and Harper's Bazaar, in which the photographer seems to stage a story, to those of maturity, where the dress and the body become absolute protagonists. Witnesses of this journey are top models who have written the history of fashion, such as Dovima, Twiggy, Veruschka, Linda Evangelista, Christy Thurlington, Kate Moss, while a special section is dedicated to Avedon's relationship with Versace, a long and fruitful partnership that has produced images destined to survive time.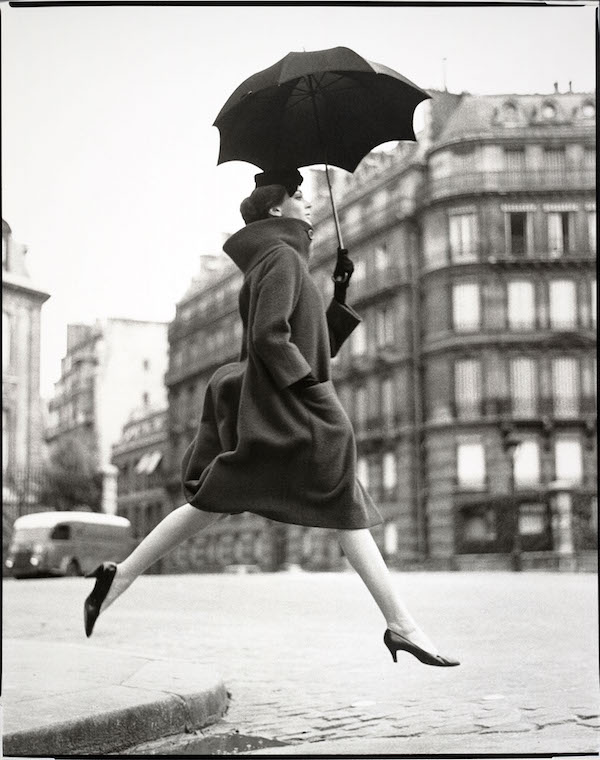 Richard Avedon, Carmen (homage to Munkàcsi), coat by Cardin, Place François-Premier, Paris, August 1957 © The Richard Avedon Foundation